Keeping Older Adults Active During Winter
Staying active can be a struggle for many of us. And, in the winter, it can be even more of a challenge. Yet, we know that physical activities and exercise can improve sleep, balance, circulation, and mood. All these benefits work to reduce blood pressure, complications from diabetes, and the risk of falling. The important thing is to find activities that are safe and fun. Below are some simple exercise ideas to stay active this winter in ways that are right for you.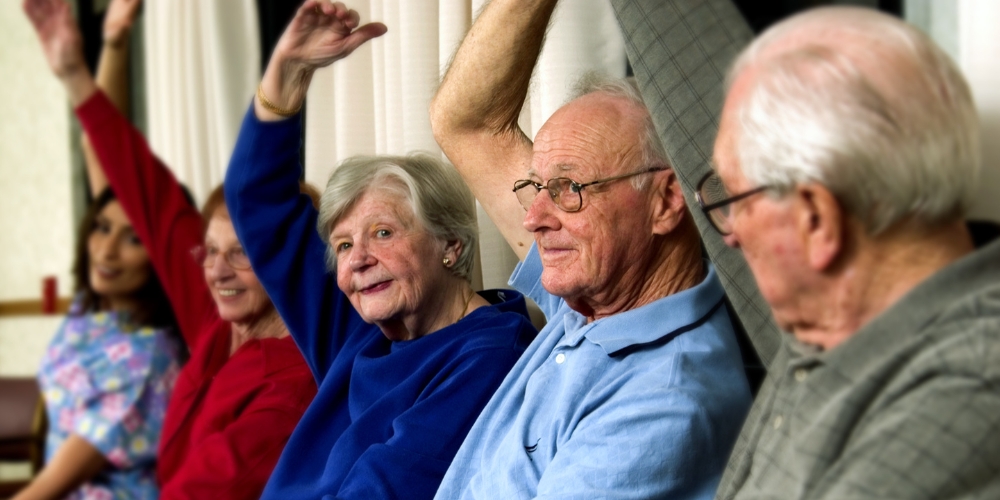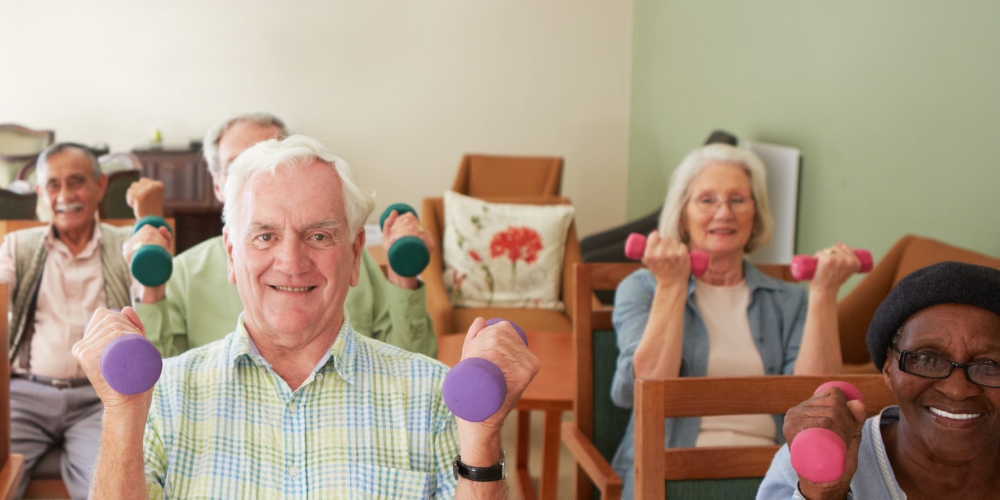 Gentle exercises
Stretching – one of the best ways to improve flexibility and prevent injury. Not only is it free, but you can do it just about anywhere. Stretch while lying in bed – move various body parts slowly and stretch stiff muscles. Stretching can be done with assistance or independently.

Walking is another great low-impact activity. Walking around the house, yard, or outside for any amount of time is beneficial to the body and mind. This exercise can be done by yourself but it can be more enjoyable with another person.

The sit-to-stand exercise is great for mobility and independence. The ability to stand up from a chair makes a huge difference in everyday life, especially for older adults. It helps with essential activities like getting up from the toilet, out of bed, or out of a chair. No equipment is needed and it can be done just about anywhere you put a chair.
Moderate exercises
Tai Chi is a great moderate and low-impact exercise routine. Check out these easy and gentle Tai Chi routines.

Household chores – believe it or not, cleaning up around the house can be great exercise. Activities like folding laundry, dusting, or light vacuuming can promote mobility and cardiovascular health.

Chair yoga has many benefits including loosening and stretching painful muscles, reducing chronic pain, decreasing stress, and improving circulation. It also reduces anxiety, helps lower blood pressure, protects joints, and builds strength and balance.

Throughout the year, the City of Boston's Age Strong Commission hosts free virtual yoga and chair yoga classes. For more details and to register for activities and events, click here.
Advanced exercises
Water exercise and swimming are low-impact activities that can help you stay in shape. It's also an excellent alternative if you cannot go outside for long periods due to weather conditions or limited mobility. Swimming has many health benefits, including cardiovascular conditioning, improved strength, increased flexibility and balance, and weight control. Consider going with a friend to a local class at the YMCA or senior center.

Dancing is a fun and engaging activity that doesn't feel like exercise and can be done at your own pace. Play you and your loved one's favorite music at home and have a dance party in the living room. Or, look for local social events.

Strength training is a great way for older adults to maintain muscle mass and balance. It can also help maintain flexibility, bone density, and independence. Follow along with these strength training workouts from the National Institute on Aging. Remember to start slow and build up slowly. Pushing too hard doesn't help and could cause injuries. Most important, consult your physician before starting any exercise routine.

For strength and balance workshops in the city of Boston, check out the great health and wellness workshops offered by the Age Strong Commission, here.
Staying safe is the top priority
Exercise is beneficial in many ways, but the priority is to make sure you stay safe before, during, and after physical activities. Each person's health and abilities are different, so it will take time to find the amount and type of physical activity that works well for you.
Safety tips:
Before starting, check with your physician to make sure that exercise is safe for you.
Check in with brief conversations during activities. If you can speak without being short of breath, the pace and exercise are comfortable. If you can't hold a conversation because you're breathing heavily, stop or slow the pace.
Stay hydrated with plenty of water before, during, and after exercising.
Use the buddy system and partner with a friend or neighbor when exercising.
Some other ways to keep safe outdoors include wearing a Personal Emergency Response System (PERS), or GPS tracker. These devices are particularly useful to help locate you in the event of an emergency.
If you or your exercise partner feel dizzy, weak, or are experiencing pain, stop immediately and rest. And, talk to your doctor about any future exercise.